MATURE CONTENT

This page contains mature content which may include mild profanity, mild drug references, mild violence, and mild suggestive themes. If you do not want to be offended or exposed to it, go back to your previous page or go elsewhere.
Kitchen
is an American adult animated sitcom created and developed by 
Ralf Hat
 for the Fox Broadcasting Company. It was one of the few televised animated series on FOX at the time, and follows the utterly ridiculous and politically incorrect escapades of a trio of Middle Schoolers, Victor McCoy (Bucket Head), Adolf "Pants" Manson, and Chuck Darren, who all live in the corrupt crime-filled city of Mountain Creek.
First premiering on the channel in June 5, 1999, Kitchen was only originally assumed last for one season, until it was later renewed for the production of more. Like South Park and Family Guy, the series is well known for its politically incorrect humor and deep morals. The offensive satire stirred up controversy in its run. Other than that, Kitchen has had a fair viewership over the years, getting at least 1.0 to 4.0 million American viewers per episode. The show is currently having eighteen seasons, 221 episodes, and plenty of other media. Mostly infamous for its aggressive violence, preposterous vulgar language, sexuality, and offensive humor, Kitchen has been compared to many other adult television series, on which many are inspirations for the concept.
Because of the series censorship, it has been criticized by many positively and negatively. While some acclaim that the series is too offensive for television, others state that the writers should have more freedom on what they write. Because of this, in 2003, a feature film based on the show titled Kitchen: Real & Raunchy was released in theaters with the R rating.
In 2002, Kitchen was cancelled and revived a couple months later on Adult Swim. It is currently running to this day.
Premise
The format for the show follows a trio of middle schoolers living in the remote city of Mountain Creek, labeled: "America's Worst Place To Live". Mountain Creek is a crime ridden, poorly authorized town filled with a vast population of ignorant uncultured citizens all ran under by an unfair man-child mayor.
The main characters include three eighth graders: Victor McCoy (Bucket Head) a perverted, shy, and innocent kid, Adolf Manson (Pants), Bucket Head's greedy, hateful, and Jewish crime-loving best friend, and Chuck Darren, a monotonous but highly intelligent kid.
Characters
Main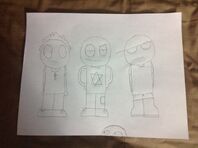 Bucket Head (Victor McCoy): A 13 year-old perverted and pathetic deeply devoted Christian child, overran with anxiety and paranoia. Bucket Head is the most good-natured and loving of the trio, and Tends to do the "right" thing, but often always hit back unfairly with bad luck. Bucket Head is a poor help and is bullied and often mistreated by his friends overall in few episodes.
Pants (Adolf Manson): A 13 year-old orphaned child with a corrupt mind filled with criminally insane ideas. Pants possesses a stereotypical Jewish personality: seen as greedy, self centered, and an utter annoyance to everyone, including his own friends. He is also apart of a infamous gang, the PoiZonZ, tries to be tough, but is actually extremely emotional which he tries to disprove to everyone else.
Chuck Darren: A 13 year-old individual and the smartest of the trio. Chuck is a sarcastic "voice of reason" in the group. Chuck is almost always in a deadpan look, and views the world in a half-hearted way. He is also the most intelligent human in the known world, holding an IQ of 359 and capable of engineering nearly impossible inventions to help himself ir his friends.
Secondary
Minor
Recurring
Episodes
Main Article(s): List of Kitchen episodes