"
Why did Dad decide to open a pizza shop anyway? Did he get tired of baked ziti?
"
 

— Eric
Eric James Pearson
is the deuteragonist of
Comedy World
, and
PC Guy
's simple-minded younger brother.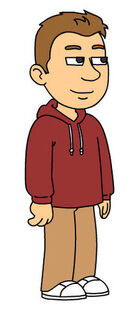 Eric is voiced by Josh Peck.
Personality
Eric is dimwitted and immature. When it's a slow day, he can usually be found in front of the television eating potato crisps, reading the latest issue of Match Boy and Girl or surfing the web. While he may not be intelligent, he is a happy-go-lucky individual.
Trivia
As revealed in the episode Ditch Day, he has skipped school 38 times, starting from pre-kindergarten.
He holds an IQ of -47.
Ad blocker interference detected!
Wikia is a free-to-use site that makes money from advertising. We have a modified experience for viewers using ad blockers

Wikia is not accessible if you've made further modifications. Remove the custom ad blocker rule(s) and the page will load as expected.