Comedy World
(often shortened to
CW
) is an American animated comedy series created by
Gary Sauls
. It made its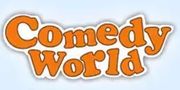 debut on Kids' WB on February 28, 1998, and ended its run on May 27, 2006, with 7 seasons, 161 episodes, 4 TV specials and a
theatrical movie
. The show is still sold on DVD to this day. All of the episodes are also available for digital purchase on iTunes and Amazon Video.
The show is rated TV-Y7 FV.
Synopsis
Two brothers, PC Guy and Eric are often left in their house alone while their parents are out at parties and such. However, these two brothers are always up for action-packed adventures in their hometown, Lakeside City.
Episodes
Setting
The show takes place at Lakeside City (often shortened to "Lakeside"), a fictional city located in the state of New Hampshire. Ironically, there is no lake at Lakeside City. The show is also set during the late 1990s, with stuff like pagers, dial-up Internet, VHS tapes, etc. being common throughout episodes.
Main Cast
Development
Reception
Ratings
When Comedy World debuted, the pilot episode attracted around 2.26 million viewers. Within its first few months on air, the amount of viewers expanded. As the show progressed, it became the number-one children's animated series on television. Needless to say, it became a major success for the Kids' WB programming block throughout the years. The time slot for new episodes was 10:30/9:30am central.
Critical response
The show currently holds a rating of 7.8/10 on IMDb and an 8.6/10 on TV.com.
Home video releases
VHS
DVD
Welcome to Lakeside (Reprint)
Adventures in Lakeside City (Reprint)
Cartoon Crack-ups (Reprint)
Christmas Chronicles (Reprint)
Summer Shock (Reprint)
Crazy Antics (Reprint)
Box sets
Broadcast
United States - Kids' WB (1998-2008), Cartoon Network (2000-2009; 2012), Boomerang (2005-2016) and PBS (2007-2013; 2018-present)
Mexico - Fox Kids and Cartoon Network
Spain - Nickelodeon
Canada - YTV
United Kingdom and Ireland - Jetix and Cartoon Network
France - Disney Channel
Germany - Nickelodeon
Poland - Jetix
Netherlands - Nickelodeon
South Korea - Cartoon Network
Shorts
Trivia
The entire series was traditionally animated with the use of pencils and papers.
The show was primarily produced in New York.